The Great General Counsel Auction
Event Type : Other
Starts at October 02, 2018 5:30 PM Eastern
Finishes at October 02, 2018 8:00 PM Eastern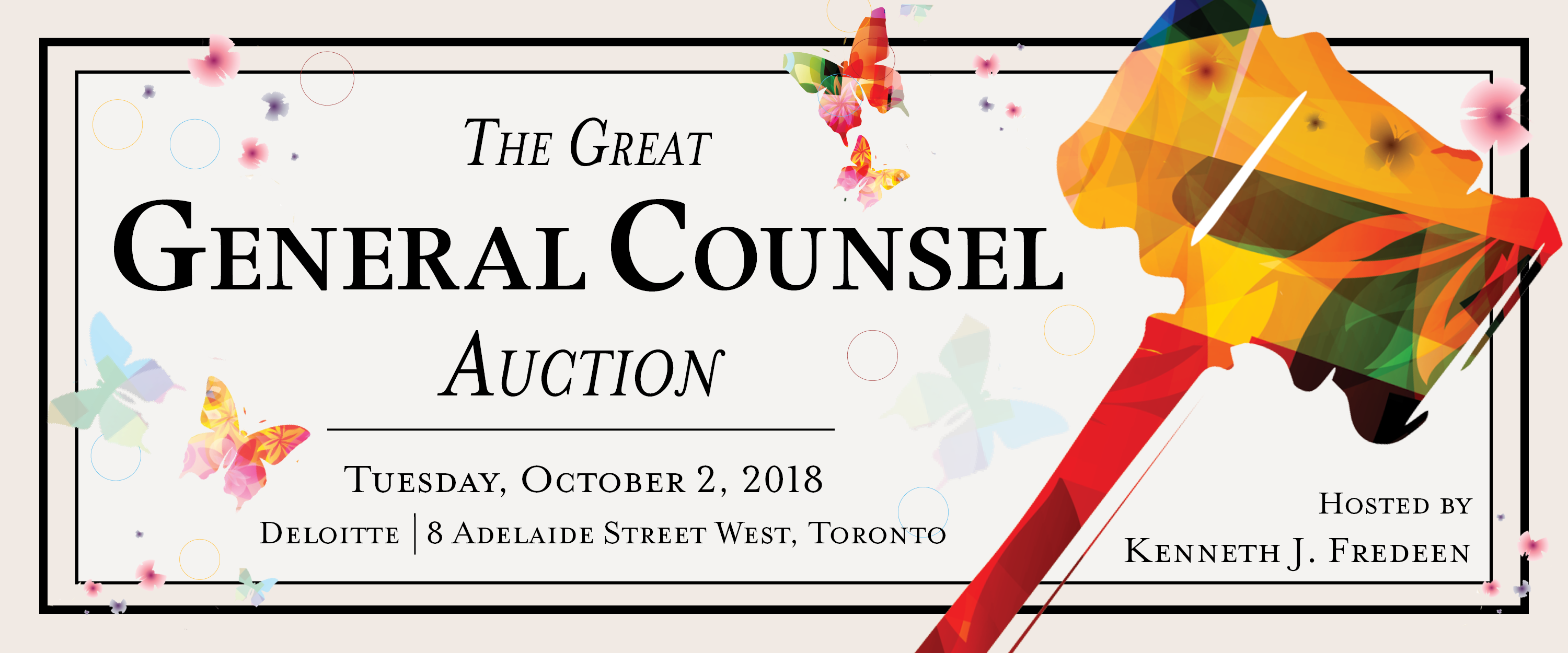 The Great General Counsel Auction is just as the name implies – a silent auction featuring some of the "greatest" General Counsels in Canada! Each General Counsel has graciously volunteered to auction off their valuable time so the winner can gain a better understanding of what it's like inside the fast paced office of a General Counsel.
The unique and creative prize package experiences are wide-ranging – some examples include a round of golf, tickets to the opera, dinner theatre, and many more. All packages feature one-on-one time with the General Counsel who donated the package. 
The auction will be a fun-filled after-work affair with cocktails, and delicious hors d'oeuvres graciously provided by our event sponsor - Deloitte.
A portion of the proceeds will go toward the creation of the John Mountain Scholarship Fund, that CCDI is establishing in memory of John who passed away in June from cancer. John was a tireless advocate for diversity and inclusion and the work of CCDI, and it is through this Scholarship that his memory will live on. Click here to learn more about John.
How it works
Tickets for the auction are $500 each and each firm/organization is allowed to purchase a maximum of five tickets. You will receive a partial charitable donation tax receipt post event. 
Each person in attendance receives five ballots. There will be one ballot box for each General Counsel who has donated their time. A person puts their ballots into the ballot box(s) of the package they want to win. At 6:30 p.m., one ballot from each ballot box will be selected and the prize will be awarded to that person.
Based on attendance, firms may be restricted to winning one package. A person must be in attendance to win.
Participating General Counsel's/Prize Packages
---
Our host for the evening
Kenneth J. Fredeen
General Counsel and Secretary to the Board
Deloitte LLP
Mr. Fredeen is General Counsel, Secretary to the Board, and a member of the Leadership Team with Deloitte LLP. He is a leader in the legal profession and the General Counsel community in particular. In addition to his responsibilities as General Counsel at Deloitte and managing a team of 25 situated both in Chile and Canada, he is a frequent speaker and panel member on topics related to the role and challenges of the general counsel, diversity, and in-house practice management. More...
Event Location
Deloitte
Bay Adelaide East - 8 Adelaide Street West, Suite 200
Toronto, ON
M5H 0A9