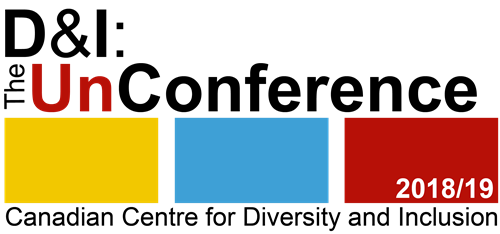 Our unique and interactive conference encourages people with an interest in diversity and inclusion as much as diversity professionals to break away from the boredom of traditional conferences with a high degree of participation – perfect for those who value networking, interactive workshops and experiential learning.
In 2018 and 2019, we will be hosting the UnConference in nine cities across Canada. 
This year's theme - Thawing the frozen middle
Why is middle management so resistant to change – especially when it comes to diversity, equity, inclusion, and accessibility? It's perfect storm really. The pressure to get the job done meets upstream/downstream currents, lack of motivational empathy and understanding of organizational impacts of exclusion, and lack of focused support for well-being as it relates to change.
How do you light a fire under middle management as advocates of diversity, equity, inclusion, and accessibility?
We will look at how to value difference through change management, how to apply consistent key messaging to highlight key differences, ways to develop motivational empathy, connect desire to understanding of organization impacts of exclusion, and how to establish a "safe-challenge" culture. 
Event schedule
Event pricing
Price of admission for all attendees is $500 CAD, plus associated taxes.
Employer Partners

 

are provided four free passes total (which can be used in any city) and a 15 per cent discount on additional passes. 
Individual Practitioners are provided a 10 per cent discount.
Sponsors
Thank you to the generous support of our event sponsors.

City builder sponsors:


---
For members of the law societies of Alberta, Manitoba, Newfoundland and Labrador, Nova Scotia, Nunavut, and the Yukon: this program may qualify for credit in the area of Practice Management as part of your mandatory annual Continuing Professional Development, as required by your Law Society. To learn more, click on the link to your province above or contact your local Law Society.