Welcome to CCDI UnConference 2023, featuring keynote speaker, the Right Honourable Mary Simon, Governor General and Commander-in-Chief of Canada.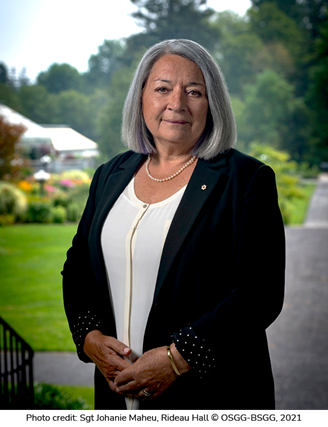 The first Indigenous governor general in Canada since Confederation, Ms. Simon has devoted her career to promoting diversity, equity, inclusion, and reconciliation within the country, having engaged in public service through her roles as Ambassador for Circumpolar Affairs and Canadian Ambassador to Denmark. Ms. Simon brings with her a wealth of experience in nation-to-nation dialogue and fostering cross-cultural understanding. 
Ms. Simon's commitment to human rights and championing of social justice initiatives make her an ideal keynote speaker for our CCDI UnConference theme, The future of DEI: Pause. Reflect. Project.
About CCDI UnConference
Our immersive and collaborative conference encourages people with an interest in diversity, equity and inclusion (DEI) as well as diversity professionals to break away from the boredom of traditional conferences with a high degree of participation – perfect for those who value networking, interactive workshops, and experiential learning.
Our annual Unconference is being delivered to you this year as an immersive, interactive, entertaining virtual experience over two half-days. 
Theme for UnConference 2023 - The future of DEI: Pause. Reflect. Project.
CCDI is celebrating its 10-year anniversary and it's the perfect time to pause and reflect on Canada's progress towards equity, diversity and inclusion, and envision together a better future.
This year at CCDI's UnConference, we will pause, reflect and project. We will pause to reflect on what changes we have seen over the last decade of DEI work within our communities and then collectively envision: what comes next? What are the future trends of DEI and how can we as practitioners and community members actively contribute to build a sustainable and equitable Canada? 
CCDI UnConference 2023 will showcase a national roster of quality speakers, panels and roundtable sessions that will share thought leadership and practical tips on the following themes:
Lessons learned from the last 10 years
The future of DEI practice and the role of AI and resilience
The role of DEI in addressing growing divisive rhetoric and hate
Call to action for truth and reconciliation in your workplace
What have we learned from #MeToo and #BlackLivesMatter — and how do we sustain efforts into the next decade
Speakers
Keynote speaker: The Right Honourable Mary Simon, Governor General and Commander-in-Chief of Canada
Opening remarks: The Honourable Ahmed Hussen, Minister of Housing and Diversity and Inclusion
Yin Brown, Director, Inclusion, Diversity, Equity & Accessibility (IDEA), Abilities Centre
Loreli Buenaventura, Head of Learning, Talent and Diversity & Inclusion, HSBC Bank Canada
Dean Delpeache, Program Lead, George Brown College
Lindsay Evans, Global Marketplace Diversity Leader, IBM
Brittany Gataveckas, Manager, Social sustainability, UN Global Compact Network Canada
Kelly J Lendsay, President & CEO, Indigenous Works
Jeny Mathews-Thusoo, Program Lead, Resilience & Futures, Collaboration, Analytics & Innovation (CAI), City of Calgary
Adediwura (Wura) Odiase, HR Leader, Employee Experience, City of Calgary
Jade Pichette, Director of Programs, Pride at Work Canada
Jade Psutka, Senior Manager, Indigenous Enablement & Recruitment at KPMG Canada & Director of Development at Focus Forward for Indigenous Youth
Jake Stika, Executive Director, Next Gen Men
Elissa Strome, Executive Director of the Pan-Canadian Artificial Intelligence Strategy, CIFAR
Craig Wellington, Executive Director, Black Opportunity Fund
Kory Wilson, Executive Director, Indigenous Initiatives and Partnerships, British Columbia Institute of Technology
Carolann Wright, Director, Capacity Building & Strategic Initiatives, Halifax Partnership
Registration
CCDI UnConference 2023 will be a virtual bilingual event held over two half-days, March 1 and 2, 2023.
Day 1 - The journey - March 1, 2023, 11:00 a.m. to 4:30 p.m. ET
Opening remarks
Keynote
Fireside chat: Anti-Black racism in the workplace
Panel: Looking back on the DEI journey
Roundtables
Closing remarks
Day 2 - Looking forward - March 2, 2023, 11:00 a.m. to 4:30 p.m. ET
Opening remarks
Panel: The future of work
Fireside chat: A journey in Indigenous inclusion
Panel: Looking forward on the DEI journey
Roundtables
Closing remarks
Registration fee
*NOTE: The fee covers both days of CCDI UnConference, March 1 and 2, 2023. 
General public: $500 + $9.50 transaction fee = $509.50 total per pass.
Employer Partners: Complimentary passes (4 or 6 depending on contract), with a 15% off all additional passes.
Individual Practitioners: A discount of 10% on the registration fee.
Sponsors
Thank you to our sponsors for their generous support.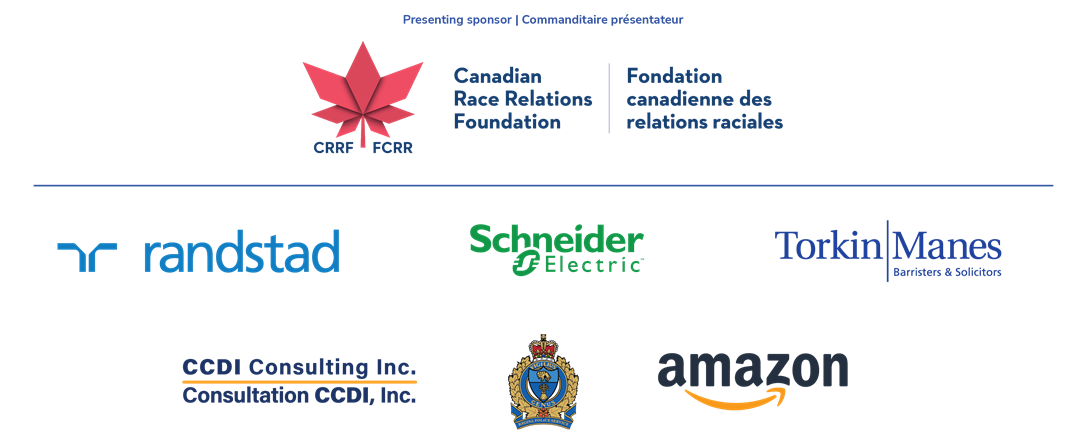 Frequently Asked Questions 
For more information about the UnConference, please visit the FAQ page here.