Our immersive and collaborative conference encourages people with an interest in diversity and inclusion as well as diversity professionals to break away from the boredom of traditional conferences with a high degree of participation – perfect for those who value networking, interactive workshops, and experiential learning.
Our annual Unconference is being delivered to you this year as an immersive, interactive, entertaining virtual experience.
Theme for UnConference 2022 - Navigational strategies in IDEA: From why to how
Inclusion, Diversity, Equity, Accessibility (IDEA) — we're all familiar with the acronym, some of us have business cases for our organizations, and we all know that investing in IDEA leads to positive business and societal outcomes. Now what?
We hear this a lot from our partner organizations: "We understand that IDEA is important, but we don't know where to start". We also hear the following from those further along in their IDEA journey: "We've implemented an IDEA strategy and have a plan, but how do we keep the momentum going?"
There is an increased expectation for organizations to address inequities. Organizations are publicly expressing their commitment to IDEA, however, many remain unsure how to follow through on that commitment.
CCDI UnConference 2022 is focused on navigational strategies in IDEA, for all organizations and across industries. The conference will feature tailored sessions for different learning levels, hands on learning through case studies, networking opportunities, and resources to build a more equitable organization. Whether you are starting out in building an IDEA strategy, are somewhere in the middle or are advanced in your IDEA journey, CCDI UnConference 2022 will provide you with valuable lessons, strategies, and practical tools in navigating all the 'how to's' of IDEA.
Date and agenda
CCDI UnConference 2022 will be held on two days, with the same program presented on each day.
CCDI UnConference 2022 will be held on Tuesday, February 8.
DéConférence CCDI 2022 will be held on Tuesday, February 15.
CCDI UnConference 2022 sessions are based on the Global Diversity, Equity and Inclusion Benchmarks (GDEIB) model: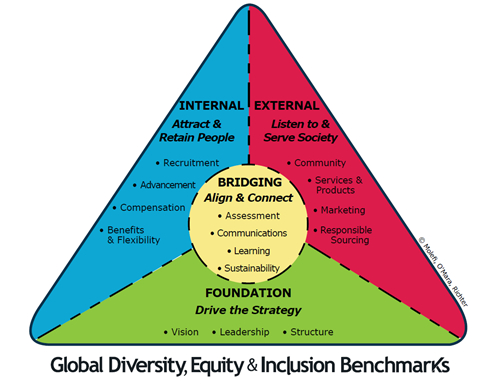 For more information on the GDEIB model, visit the Centre for Global Inclusion.
The UnConference 2022 agenda has been setup with flexibility in mind. Additionally, sessions have also been tagged to cater to varying levels of learning, be it beginner, intermediate-advanced or all level audiences. Join us bright and early and end your day after the plenary sessions, or stay on and attend the repeated concurrent sessions at the end of the day, this time choosing a different learning level.
Concurrent blocks:

Activating your workforce: An internal focus
Activating your community and services: An external focus

Plenary Sessions:

Driving the vision and strategy: A foundational focus
Sustaining and communicating your efforts: A bridging focus
Click here for more information on the agenda.
Registration 
Registration is now open. Click here to get started. 
Sponsorship
Interested in sponsoring CCDI UnConference 2022? Contact our Director of Partner Activation, Daniel Holland at [email protected].